History
Selected Car Group is delighted to offer for sale this stunning, 1956 Porsche 356 A 1600 Speedster finished in its original factory configuration of Red with Black Vinyl. (
The car appears to have spent the first have of its life living in the USA where it was delivered from new.
An Italian dealer acquired the car in 1990 from its then owner in the state of Illinois where it had been residing since around 1965.
The car was imported to Italy and in 1992 it was noted by Porsche Italia S.P.A it was that chassis number #8260 had been fitted with an engine type 616/2 number #80065 with 75 CV, as fitted to the S model, in lieu of the 616/1 engine it was born with as this had only 60 CV.
Both engines were originally available at this time for this model, so the upgrade was in keeping with factory standards and creates a much more spirited drive.
The car has been residing in our own private collection since November 2015, where it has been fastidiously maintained by our in-house team and has seen limited use at events over the years.
The car presents incredibly well today even all these years later, the standard of the paint finish is exceptionally high and only has the smallest of stone chips on the bonnet and bumper. The shut lines are superb, the chrome trim all fits beautifully and has been done to a high standard, only the door handles and the bonnet emblem show any signs of pitting and may well be the original items.
Mechanically the car remains very strong and has always been eager to start and stretch its legs every time we have been privileged enough to use it.
The 356 Speedster remains one of the most useable and desirable classics ever seen, it can be enjoyed at rallies and races the world over and can equally be any amateur enthusiast couple on a weekend adventure to their favourite location, taking the twisting and turning country lane option all the way of course.
Owning such a well restored older restoration makes a lot of sense as you know the car has been done well and is likely to last another 67 years if properly looked after.
Feel free to contact us and see the car in person if you want the opportunity to own this outstanding machine.
The car is with VAT not reclaimable.
Specifications
Price (EUR)
427.000,-
Incl. tax and excl. registration
Motor
1.6-litre, 4 cylinders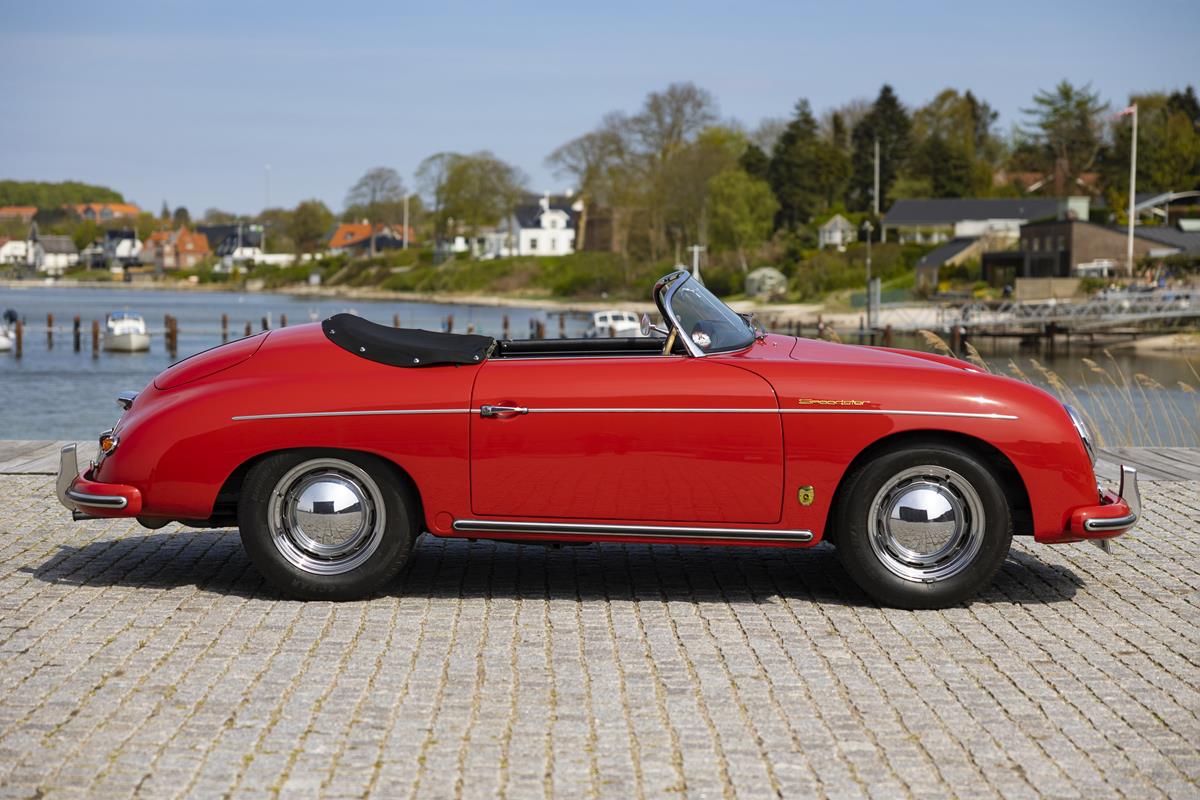 Performance
60 hp at 4,500 rpm
Production period
1956-1958
Model details
2-seater sports car
Do you find our
Porsche 356 A 1600 Speedster by Reutter

interesting?
Stay up to date with latest news from Selected Car Investment!
Subscribe to our newsletter and be the first to get all the latest news from Selected Car Investment.
As a Selected Car Investments newsletter subscriber, you'll be among the first to see our new investment cars, receive invitations to upcoming events and competitions and much more!
Sign up and experience our passionate car universe up close.