Historie
History of this car.
The Aston Martin Vantage GT8, is a true thoroughbred machine which takes an already outstanding car to its most extreme and desirable configuration, a superbly balanced and engaging machine.
With a strictly limited production run of just 150 cars, the GT8 was already destined to be one of the most desirable cars of its era.
This particular example is most definitely one of the most sought after of those, with just under 1300 km from new, and fitted with the highly desirable manual transmission from new.
Most exciting of all the car was painted from new by the factory in this gorgeous one of colour, Heritage Racing green.
Experiencing the heart-pounding performance as the Vantage GT8's 4.7-liter V8 engine, is a visceral and vocal assault on the senses. The engine quite literally roars to life, generating an exhilarating 440 horsepower, delivered directly to the rear wheels through its 6-speed manual transmission, which result in the vehicle hitting 100 KPH in just 4.4 seconds and ensures that every prod of the acceleration pedal is a true thrill.
Aston Martin has remained a significant name on the racing scene, and most fortunately their incredible engineering work on the racecars, occasionally makes its way to the road cars.
This Aston Martin Vantage GT8 is no exception, with inspiration taken from the V8 Vantage GTE, there is no doubting that the GT8 is true to it´s roots as a racecar made road legal.
This exact model is even equipped with the Carbon Fibre Aero Pack which was an addition of 11.500 € at the point of purchase.
Step inside the cabin, and you'll be enveloped in a world of refined luxury, with a combination of Pure black Alcantara and leather, finished with Chancellor Red stitching, as well as the GT8 logo in the headrest.
Resume
This is a unique opportunity to own number 23 out of just 150 Aston Martin Vantage GT8, and there is no doubt that nr 23, is a truly special car.
Finished in a gorgeous one of color, of Heritage racing green, it´s truly a sight to behold.
The car is German from new, and is supplied with German registration as well.
The car is without VAT and Registration fee.
The car can be sold to private individuals with addition of VAT.
Don't hesitate to contact us for an appointment to come and inspect the car.
Specifikationer
Pris (DKK)
1.975.000,-
Ekskl. moms og reg. afgift
Interiør
Sort læder / sort alcantara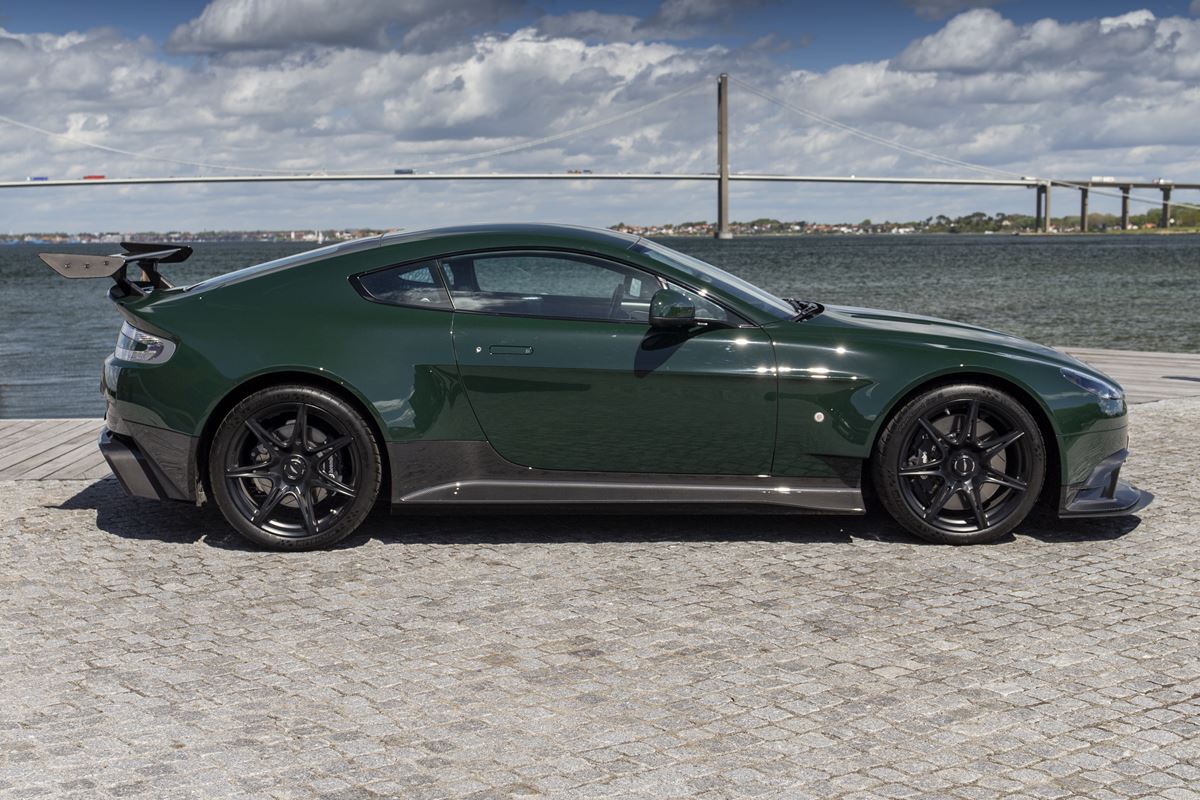 Farve
Heritage Racing Green
Produktionsperiode
2017-2017
Model detaljer
2 personers sportsvogn
Finder du vores
Aston Martin Vantage GT8

interessant?
Hold dig opdateret med seneste nyt fra Selected Car Investment!
Abonner på vores nyhedsmail og vær den første til at få alt det seneste nyt fra Selected Car Investment.
Du vil som abonnent på Selected Car Investments nyhedsmail være blandt de første til at se nye investeringsbiler på lager, modtage invitationer til kommende events, konkurrencer og meget mere!
Tilmeld dig, og oplev vores passionerede bilunivers helt tæt på.