DKK 1.377.000
Inkl. moms og ekskl. reg. afgift
Historie
Mercedes-Benz 280 SL ¨Pagode¨ 3 seater, same owner for 32 years
This Is not just the ordinary 280 SL ¨Pagode¨
This exact model is the desirable 3 seater version of the infamous ¨Pagode¨ everyone knows and love, take a look at the photo´s and you'll see the rear seat is positioned sideways - even more whacky than the infamous McLaren F1's seating layout.
As if that weren't unique enough, this particular model also includes heated seats.
Never again will there be a greater chance to get a vehicle in which three people can enjoy a pleasant summer journey in.
On October 4, Hutchinson Motors Inc. delivered the vehicle to Mr. Allan Ory, MD. The Service History at the bottom of the advertisement shows that Allan took great care of the automobile over the 32 years he owned it.
The 280 SL debuted in December 1967, and production continued until February 1971 when the model was replaced by the brand new and considerably heavier 350 SL (R107). Not least because of its lower weight, the 280 SL has a sportier edge than its successor, even though it is also a very capable grand tourer. Americans generally preferred the automatic transmission and more than half of the 23,885 SLs built were sold in the US.
Earlier SLs came with the smaller 230 and 250 engines, and the M130 engine in the 280SL was the final and most powerful development of Mercedes Benz's classic SOHC M180 6-cylinder engine.
All models were equipped with an inline six-cylinder engine with multi-port fuel injection. The bonnet, boot lid, door skins and tonneau cover were made of aluminium to reduce weight. The comparatively short and wide chassis, combined with an excellent suspension, powerful brakes and radial tyres gave the W113 superb handling for its time. The styling of the front, with its characteristic upright Bosch 'fishbowl' headlights and simple chrome grille, dominated by the large three-pointed star in the nose panel, paid homage to the 300 SL roadster.
The W113 was the first sports car with a 'safety body', based on Bela Barényi's extensive work on vehicle safety. It had a rigid passenger cell and designated crumple zones with impact-absorbing front and rear sections built into the vehicle structure. The interior was 'rounded', with all hard corners and edges removed, as in the W111 sedan.
The car comes with the original hardtop with garnish mouldings. These mouldings are necessary to attach the at the time optional roof rack, or ski rack.
Therefore, if you're looking for a beautiful drivable car and a piece of history on four wheels, this one is for you.
Please do not hesitate to contact us by phone or mail.
Specifikationer
Pris (DKK)
1.377.000,-
Inkl. moms og ekskl. reg. afgift
Interiør
Burgundy Leather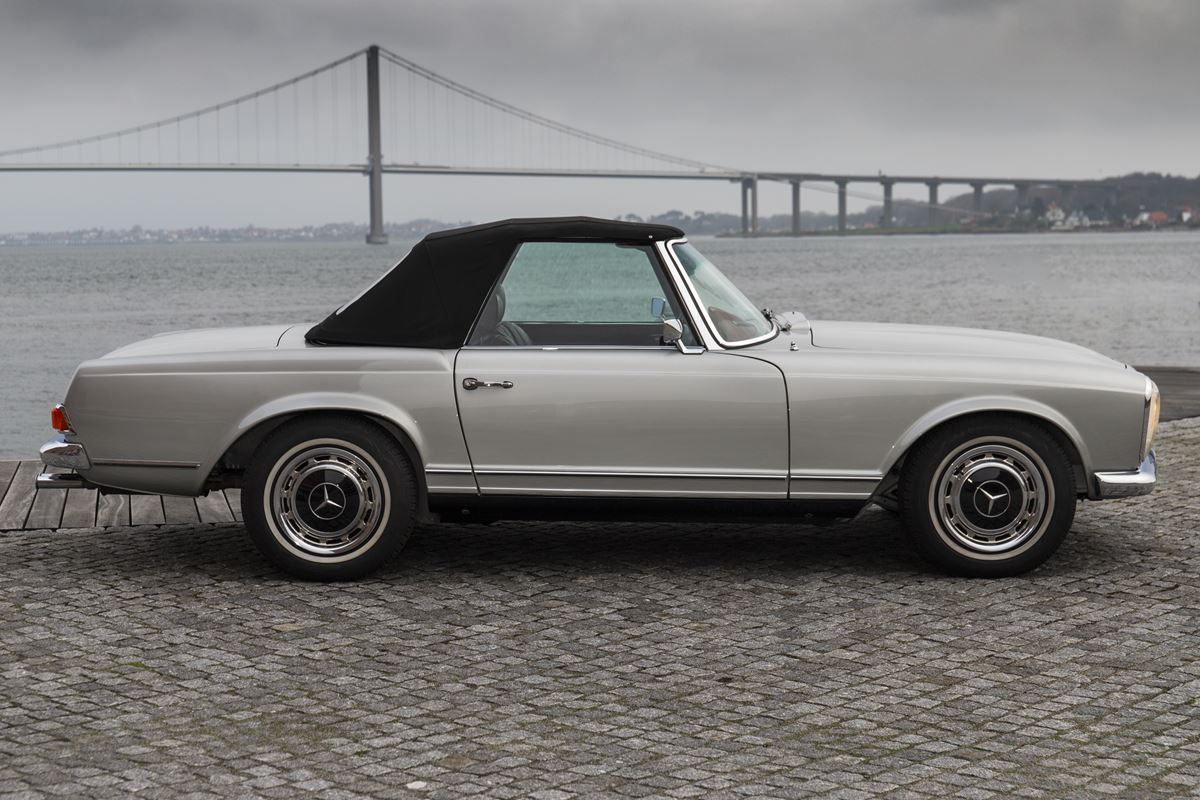 Gear
4-Trins automatgearkasse
Farve
Silver Grey Metalic
Produktionsperiode
1967-1971
Model detaljer
3-personers åben sportsvogn
Finder du vores
Mercedes Benz 280 SL Pagoda, 3 Seater Same owner for 32 Years

interessant?
Hold dig opdateret med seneste nyt fra Selected Car Investment!
Abonner på vores nyhedsmail og vær den første til at få alt det seneste nyt fra Selected Car Investment.
Du vil som abonnent på Selected Car Investments nyhedsmail være blandt de første til at se nye investeringsbiler på lager, modtage invitationer til kommende events, konkurrencer og meget mere!
Tilmeld dig, og oplev vores passionerede bilunivers helt tæt på.