History
Not discreet - but beautiful!
When was the last time you saw a 996 Turbo Cabriolet in Speed Yellow? The color almost defines this car and also makes it a real rarity: It is certainly not for shy drivers, but on the other hand it is perfect for collectors and/or real enthusiasts. And yes, of course it comes with the well-functioning six-speed manual gearbox, so certainly caters for the discerning drivers too.
The first registered owner i July 2003 was Porsche AG Stuttgart, which probably explains the strong color combination and equipment level: Porsche have used the yellow lightning as a real showroom magnet for the then brand new Turbo Cabriolet.
None of the three subsequent owners have driven the Turbo Cabriolet much, but on the other hand they have obviously always cared really well for the car: Now with 41,000 kilometers on the clock it is therefore in a super beautiful original condition and drives as well as it looks.
A real chance for the true connoisseur.
About the model:
The Porsche 996 was produced from 1999 to 2004 and had very little in common with its predecessor, the 993. It was given a completely new chassis platform and a newly designed water-cooled engine. Technically, this was a major overhaul.
The newly designed engine is due to stricter requirements for emissions and noise reduction and environmental considerations. Other modifications included a completely new chassis with a slimmer body, a more reclined windscreen and a redesigned interior.
With the new body came the much criticized headlights, which were very soon nicknamed 'fried eggs' due to their shape and integrated coloured indicators. Porsche fans were not happy about the design change from the traditional upright lenses, but the designs seems to have matured well and is now becoming more and more accepted.
The Turbo model made its début at the Frankfurt Motor Show in September 1999. The engine was a development of the race car engines from the 1998 Le Mans GT1 and it produced an output of 415 hp at 6,000 rpm.
The 996 Turbo had permanent all-wheel drive and was available with either six-speed manual transmission or five-speed automatic Tiptronic.
Specifications
Price (EUR)
105.000,-
Incl. tax and excl. registration
Motor
3.6-litre, 6 cylinders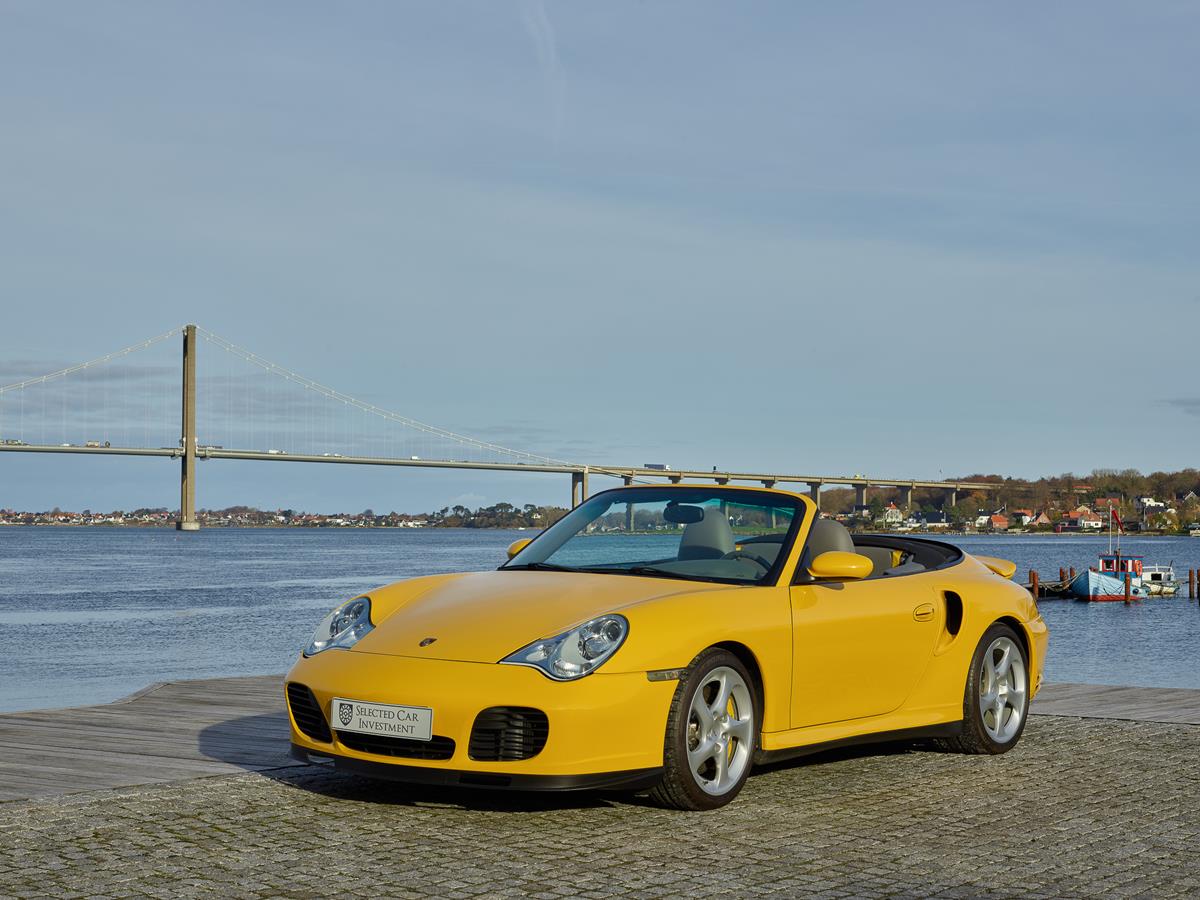 Performance
420 hp at 6,000 rpm
Production period
2003-2005
Model details
2+2 seater sports car
Total produced
Around 3300
Do you find our
Porsche 911/996 Turbo Cabriolet

interesting?
Stay up to date with latest news from Selected Car Investment!
Subscribe to our newsletter and be the first to get all the latest news from Selected Car Investment.
As a Selected Car Investments newsletter subscriber, you'll be among the first to see our new investment cars, receive invitations to upcoming events and competitions and much more!
Sign up and experience our passionate car universe up close.