History
At the Frankfurt Motor show in 2008 Porsche released their, at that time most powerful homologated 911 to date, the now highly sought after Porsche 911/991 GT2. The Power is supplied by the well-known 911 Flat six engine, equipped with a Turbocharged Twin-Turbo attached to the 3.6 Liter engine, this results in a development of 530 Hp, and an astonishing 505 Lb-Ft of torque.
These incredible numbers are supplied directly to the rear wheels, through the Manual 6-speed short throw Gearbox, resulting in the car going from 0-100 Km/h in just 3.6 Seconds.
This extraordinary sports car represents the pinnacle of Porsche's engineering prowess with adjustable suspension, customizable ride height, camber, toe angle and anti-roll bar settings. One of the most remarkable engineering achievements was that the GT2 was the first Porsche to feature an expansion-type intake manifold, which until launch of this car in 2008 had never been seen on a Turbocharged Engine.
The driving experience of the GT2 is simply unmatched delivering blistering speed, impeccable handling, and an almost unmatched driver Feedback. From the racetrack to the open road, the 997 GT2 stands as a testament to Porsche's relentless pursuit of automotive perfection.
As a true testament to its exclusivity, the Porsche 997 GT2 was produced in a limited number of just 939 Cars in 2008, which ensure that the very limited numbers of GT2 owners, are joining a community of individuals who appreciate the finest engineering and share a passion for the thrill of driving.
This exact Porsche 997 GT2 is finished in the lovely combination of Carraraweiss, with original GT2 decals on both sides complemented by a black leather interior, with yellow seatbelts.
The car comes with a German registration and is German from new it also features a Porsche COC, all books, and a car cover.
The car benefits from a recent service in end of January 2023 at 20064 Km, car has driven under 100 km since then.
Car is without VAT.
Car can be bought privately with the addition of VAT.
Specifications
Price (EUR)
225.000,-
Excl. tax and registration
Motor
3,6 L - Flat 6 cylinder
Interior
Black leather / Black alcantara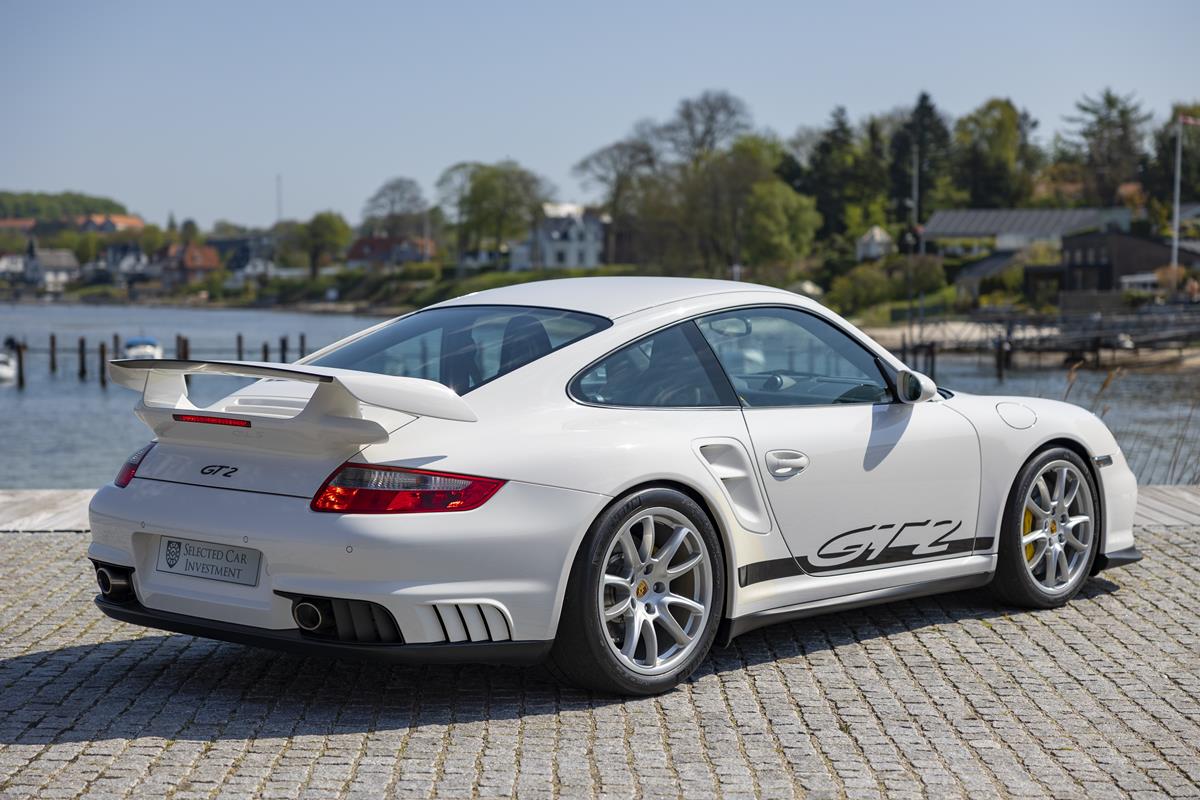 Performance
523 Hp at 6250 RPM
Production period
2008-2009
Model details
2-seater sports car
Total produced
1226 - Only 939 in 2008
Do you find our
Porsche 911/ 997.1 GT2

interesting?
Stay up to date with latest news from Selected Car Investment!
Subscribe to our newsletter and be the first to get all the latest news from Selected Car Investment.
As a Selected Car Investments newsletter subscriber, you'll be among the first to see our new investment cars, receive invitations to upcoming events and competitions and much more!
Sign up and experience our passionate car universe up close.