History
It is impossible not to notice this Porsche 997.1 GT3 RS, which comes in the iconic color of Viper Green
The 997 generation of the Porsche 911 was a powerful evolution of the older 996, and pretty much everything was redesigned. At the same time, the GT3 and RS models were refined to a new level, and the car we're focusing on today is also quite rare. It is believed that only 1,106 examples of the 997.1 generation GT3 RS were produced.
The engine is a 3.6-liter naturally aspirated motor that produces 415 hp, but even more interestingly, the GT3 RS was lightened by several kilograms. Among other things, the engine cover is made of carbon fiber, as is the rear wing, while the rear window is made of plastic for lower weight. 1,375 kg is the weight of the car, and compared to many other cars of the time, it makes the GT3 RS a true flyweight.
The very first 911 GT3 debuted in 2003 as a 996, towards the end of the 996 era the beginning of the infamous RS production began, and an even more rare and track focused 911 has been born.
In 2007 the brutal 997 GT3 RS was born, true to the 911 nature its heart evolved around a
high-revving 3.6-liter flat-six engine, offering 415 hp to the rear wheels, utilized by a 6-speed manual transmission. This extensive combination makes the driver experience one of a kind.
This exact 997 GT3 RS, is finished in the stunning color of VIPER GREEN, a highly distinctive paint scheme, which was produced in a very limited number.
This example is exceptionally well preserved and it's clear that it has lived a good and protected life. get in touch with our experts directly to find out more.
Car was last serviced at 30/01/2023 (11690 km)
Price is not Incl VAT.
Specifications
Price (EUR)
235.000,-
Excl. tax and registration
Motor
3.6-litre, 6 cylinders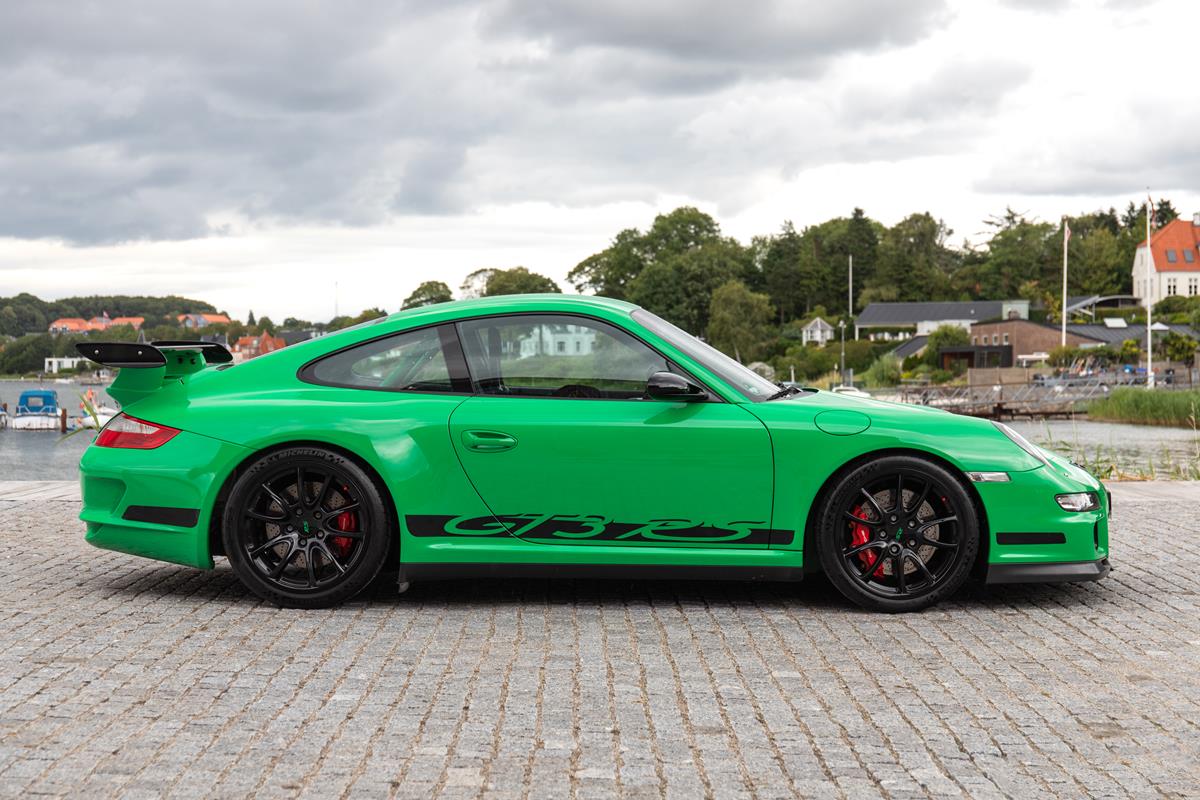 Gear
6-speed manual (last GT3 RS with manual transmission)
Performance
415 hp at 7,600 rpm
Production period
2006-2009
Model details
2-seater sports car
Do you find our
Porsche 997.1 GT3 RS

interesting?
Stay up to date with latest news from Selected Car Investment!
Subscribe to our newsletter and be the first to get all the latest news from Selected Car Investment.
As a Selected Car Investments newsletter subscriber, you'll be among the first to see our new investment cars, receive invitations to upcoming events and competitions and much more!
Sign up and experience our passionate car universe up close.